Influence change
Influence change
Influence change
To help more young people receive the support they need, we continue to influence government, the HSE and local authorities.
We also work with our partners to explore the best ways of delivering better mental health support to young people.
Why Ireland must prioritise youth mental health
1.6

million

a third of Ireland's population, are under 25 years old

8.3

million

euro per year cost to Ireland's economy on mental health difficulties

40

%

of adolescents surveyed reported experiencing levels of depression outside the normal range

49

%

of adolescents surveyed reported levels of anxiety outside the normal range
What Jigsaw is doing to bring about change
We understand how mental health can affect a young person's life. Working with government and policymakers we help shape policy to improve lives.
To ensure better mental health support for young people we are asking government and policymakers to:
engage and collaborate with us in developing sustainable solutions to support young people
prioritise prevention and early intervention at the primary care level in mental health
increase the proportion of mental health spending to at least 10% of the overall health budget
address the imbalance in funding between crisis services and early intervention services at primary care level
increase funding for Jigsaw, and for this funding to be multi-annual, to do the following…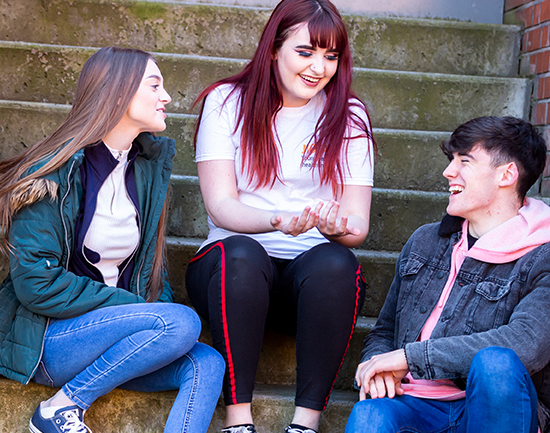 grow our primary care early intervention mental health services for young people
fully resource our online mental health support
rollout our new fully comprehensive post primary school's programme, One Good School™
deliver pioneering research, undertaking robust evaluation and publishing transformative evidence.
These recommendations were first presented at a Jigsaw briefing to government and policy makers at Leinster House. They are part of our report A New Perspective: Meeting the mental health needs of young people in Ireland (updated March 2020).
While broadly welcomed and included in key government reports and plans, we know there is still a way to go. We need to make sure that promises and plans are delivered on, so all young people have access to the support they deserve.
Continuing to engage with policy makers and politicians, we aim to further influence decision making to deliver better mental health supports for young people.
Our research tells us how we can best meet the mental health needs of each young person that comes to us for support.
We evaluate all of our services and supports, and have built a bank of knowledge and experience to help increase everyone's understanding of young people's mental health.
My World Survey 2
Published in 2019, My World Survey 2 (MSW2) is Ireland's largest and most comprehensive study of young people's mental health and wellbeing. It captures the views of more than 19,000 young people and is an outcome of a research partnership between University College Dublin (UCD) School of Psychology and Jigsaw.
Among the most striking findings were:
levels of depression and anxiety in adolescents and young adults increased from My World Survey 1 to My World Survey 2
levels of protective factors related to mental health such as self-esteem, optimism and resilience have decreased
factors such as sleep, physical activity and pornography use were strongly associated with depression and anxiety
there was a 7% increase in adolescents reporting the presence of One Good Adult®. 76% of adolescents reported having a special adult in their lives when in need.
We continue to evaluate and report on the data from MWS2.
Read the full report at MyWorldSurvey.ie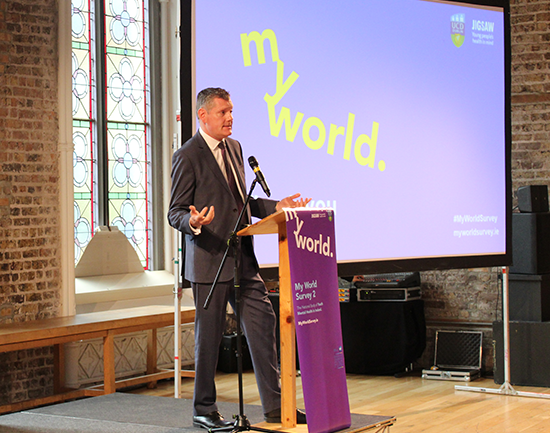 Pandemic response
Our research team made sure we were able to capture data that helped us to better understand and evaluate the impact of the pandemic on young people's mental health to:
make changes to our existing supports and services
develop our new supports and services.
Regular reports helped guide the decisions made in response to the pandemic.
We adapted projects such as the evaluation of One Good School™, accounting for the impact of the pandemic. Two young people were also employed to work on a research project examining the impact of the pandemic on young people.
See our latest research.
We tell people about Jigsaw and what we do. Telling the public about young people's mental health let's us explain why it is hugely important.
Young people, volunteers and supporters help us to do this.
We need people to understand why young people's mental health matters. Because we need their help if we are to be there for every young person that needs us.
Jigsaw.ie and social media
In 2020, we completed a redesign of our website, jigsaw.ie. Our goal is for all visitors to get the best experience possible in accessing the information and supports they need.
On this site you can now find out about our local services, our online information and supports, ways to fundraise and donate, and also employment opportunities at Jigsaw. The site continues to grow as one of our most important resources.
Social media is an important part of our outreach to those seeking support and interested in supporting Jigsaw. All channels have increased activity as more information and supports are shared through them.
Both jigsaw.ie and our social media provide content that connects with people. This could be keeping them updated about our services, letting them know about new supports, or simply sharing young people's everyday stories.
We're here for you campaign
Our 'We're here for you campaign' launched in late March 2020 across print and digital channels. It included:
adverts in national newspapers
billboards and posters across over 100 outdoor advertising spaces
digital ads through social media
interviews with Jigsaw clinicians and youth volunteers providing advice and sharing experiences across radio and TV.
The aim of the campaign was to raise awareness of Jigsaw and the mental health supports we offer. We wanted people to know we are there for them during tough times. It was the first time Jigsaw ran a multi-format national campaign focussed on raising awareness.