An alternative Valentine's theme for February
An alternative Valentine's theme for February
Wednesday, 03 February 2021
Let's face it, the best thing about Valentine's day is discounted chocolates in shops in the days that follow. No matter what your relationship status, this year has been challenging. 
A lot of people in relationships have found themselves separated by 5km travel restrictions. As for single people, dating has either been put on hold or moved video chat. We can all feel societal pressures to tick certain boxes; meet someone, get married, get a mortgage, have a child. These pressures can often be reinforced by parents whose lives would have followed these sequential events.
Many of us may be feeling the frustrations of having life on hold at the moment. But, remember there are no boxes that need to be ticked or timeframes for certain life events. Whatever our circumstances, we could do without the traditional Valentine's messaging.
A positive Valentine's message
Every month, Jigsaw Dublin City volunteers have been working to create a rolling gallery in the windows of the service. The aim is to spread a message of hope to passersby or on social media. January's was a comforting reminder that we will see better days.
For February the volunteers have shared a positive Valentine's message we all need, 'Remember, you are loved… no matter how you feel'. The tree with the heart shaped leaves symbolises both the strength and delicate nature of love; needing the right environment to be able to flourish and thrive.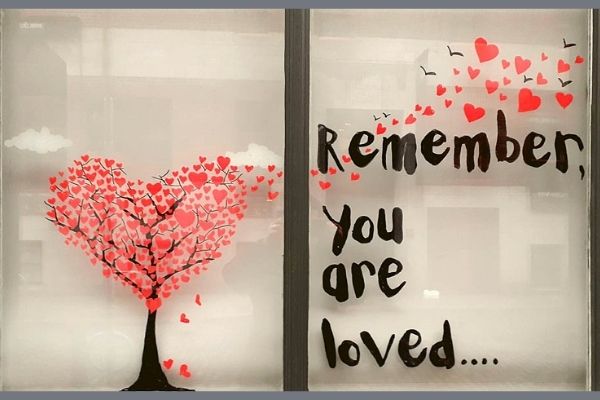 Cian Mekitarian
Youth and Community Engagement Worker
For young people attending Jigsaw, we wanted to make sure the message was one of positivity and non-alienating, with a reminder that even when you're down, there are people who love you and are looking out for you
Helping through challenging times
Dublin City's Youth and Community Engagement Worker Cian shared the design concept behind this month's window display. The aim was to create a positive and inclusive message to remind people that even when you're down, there are people who love you and are looking out for you. This image of the 'Girl with Balloons' aims to depict this.
Speaking about the design, Cian shares "The heart shaped leaves from the tree blow through the image, lifting the girl and her balloons, helping to keep her afloat through challenging times."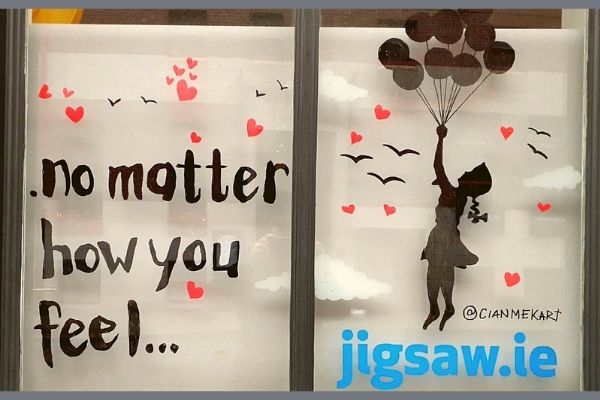 You may also like