Live Chat
Live Chat
Jigsaw Live Chat
Get free text-based support if you're aged between 12-25 years-old with a clinician online through 1:1 webchats.
Jigsaw Live Chat is open:
Monday, Wednesday, and Friday 1 – 4.30 pm
Tuesdays and Thursdays from 2 – 7.30 pm
If you want to get in touch with a clinician outside of these times, register on the same portal to send an email.
Visit chat portal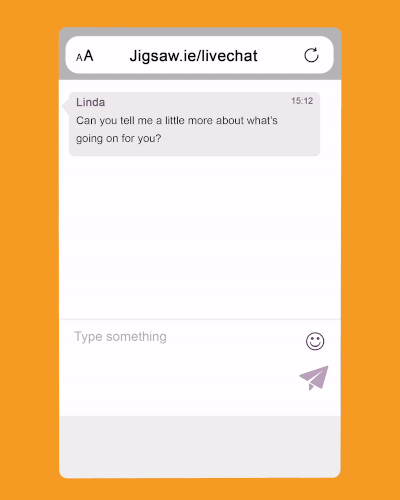 What do I need to know?
What happens when I request a chat?

There will be a text box where you can tell us a little bit about the reason for your visit. Fill out a brief questionnaire about how you are doing at the moment.

At the start of your chat, a clinician will welcome you, introduce themselves and invite you to say a little more about what you'd like support with.

Chats sessions will last approximately 40 minutes.

How do I get the most out of my chat?

What if I am in crisis?

Can I be anonymous?

Do I need a referral?

What kind of things can you help with?

How many chat sessions can I have?

Will I speak to the same person if I request another chat?

Attending other mental health services
Why send an email?

An email through the chat portal is a good way to write out what is going on for you and how you are feeling.

You can take your time writing it and send it even if the chat service is closed.

How long will a response take?

Requesting a chat after an email
If there is a problem with your internet connection:

Check your internet connection. If you are unable to reconnect, you can access a new chat when your connection is restored.

Although it may not be with the same person, they will be able to see the details of your previous chat so you can pick up where you left off.

If there is a problem with our internet connection:

If there is a problem with the chat portal:
Is this service confidential?

The information that you share in chats and emails is confidential to the Jigsaw Online team. We will not share information without your consent unless we are concerned that you or someone else is at risk of harm.

In such circumstances, we may need to share your personal information with third parties such as an Garda Síochána, emergency services, or Tusla, The Child and Family Agency to ensure that you or another person at risk gets the appropriate support.

In addition, if we are concerned that you or another person is at risk of harm, we may ask you for more information, such as your full name, your address, or contact details for a next of kin who we can contact. It is up to you if you wish to provide this information.

Protecting your information

What information do we collect?

How do we use your information?

Who do we share your information with?

Data protection