Taoiseach Micheál Martin launches our new strategy
Taoiseach Micheál Martin launches our new strategy
Cian
Thursday, 14 October 2021
An Taoiseach Micheál Martin, alongside Minister of State with responsibility for Older People and Mental Health, Mary Butler TD, launched our new strategy for young people's mental health today.
Together, Jigsaw's Organisational Strategy 2022-2025, sets out our plan for the next four years. It builds on 15 years of working in youth mental health across Ireland. The strategy outlines our vision for an Ireland where "every young person's mental health is valued and supported."
The strategy is made up of two goals:
Micheál Martin
Taoiseach
Since their foundation in 2006, Jigsaw have been a forerunner in the area of youth mental health in Ireland.
Achieving more together
Our research shows the growing impact mental health difficulties can have on young people's day-to-day lives. This includes an increase in the number of days absent from school, college, or work, as shown in My World Survey 2.
In 2020, our services offered over 23,000 appointments over the phone, video, and in person. More than 260,000 people visited the online information and supports at Jigsaw.ie.
The new plan reaffirms our commitment to reach more young people. We intend to work together with young people, their families, friends, communities, and supporters. This will ensure they have access to good mental health support and information when and where they need it most.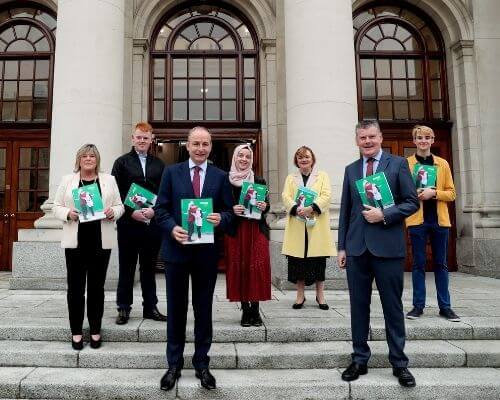 Micheál Martin
Taoiseach
Innovative, committed and hugely progressive, Jigsaw remain a key partner to this government. Their new strategy sets out a clear and tangible vision aimed at achieving better mental health outcomes for our young people. Now, more than ever, this is a vision that we, as a government, and we as a nation are committed to.
New strategy
Minister of State, Mary Butler TD, commented at today's launch: "I am hugely impressed by the work of Jigsaw over the last numbers of years and enthused by their new strategy. It acknowledges that new ways of working are feasible, and that digital interventions must be central to all future thinking, something myself and my colleagues in the Dept. of Health are fully committed to."
Our Chief Executive Officer, Dr Joseph Duffy also attended the event. He added: "Together, Jigsaw's Organisational Strategy 2022-2025, speaks to working collaboratively, rowing in the same direction.
Through a deeper understanding, and communication, of the need for collective action and togetherness, we aim to mobilise support, rally communities, hear from, and speak to, young people and parents, and drive policy change and funding decisions."
>> Download Together, Jigsaw's Organisational Strategy 2022-2025 
You may also like