Section 1: Exploring mental health and wellbeing
Section 1: Exploring mental health and wellbeing
Naoise
Monday, 01 March 2021
In Jigsaw, we view mental health and wellbeing from an early intervention and prevention perspective.
This section of the toolkit gives you the opportunity to explore the definition of mental health and wellbeing with your class, gaining an insight into what it means for them. It will also give young people the space to hear Jigsaw's key messages on mental health and wellbeing.
Section 1 sets the scene for the following sections. These include exploring supports and challenges to our mental health and wellbeing and also taking a deeper look at mental health and wellbeing in your school.

Learning intention:
The activities and resources will help young people to define what is meant by mental health and wellbeing in the classroom. All resources can be used in Google Classroom, Teams and Jamboards / Whiteboards.
What you'll find
(in Irish and English)
multimedia

1 animation and video

activities

1 class activity and discussion
---
Exploring mental health and wellbeing
Using these resources and activities will help young people understand that:
Mental health is something we all have
People experience mental health differently
Mental health is like a scale and what is going on for us can impact it in positive and negative ways.
Resources and activities
Post-it notes
Give each young person some post-it notes and ask them to write or draw some images or words that represent mental health to them.
Ask the class to share ideas with each other and then as a group.
What are some of the key themes coming up in the class?
What is mental health?
Watch this animation, which explains Jigsaw's key messages on mental health and wellbeing. How did the messages here compare with what the class came up with? Use the information from the animation to build on the earlier discussion.
Mental health wheel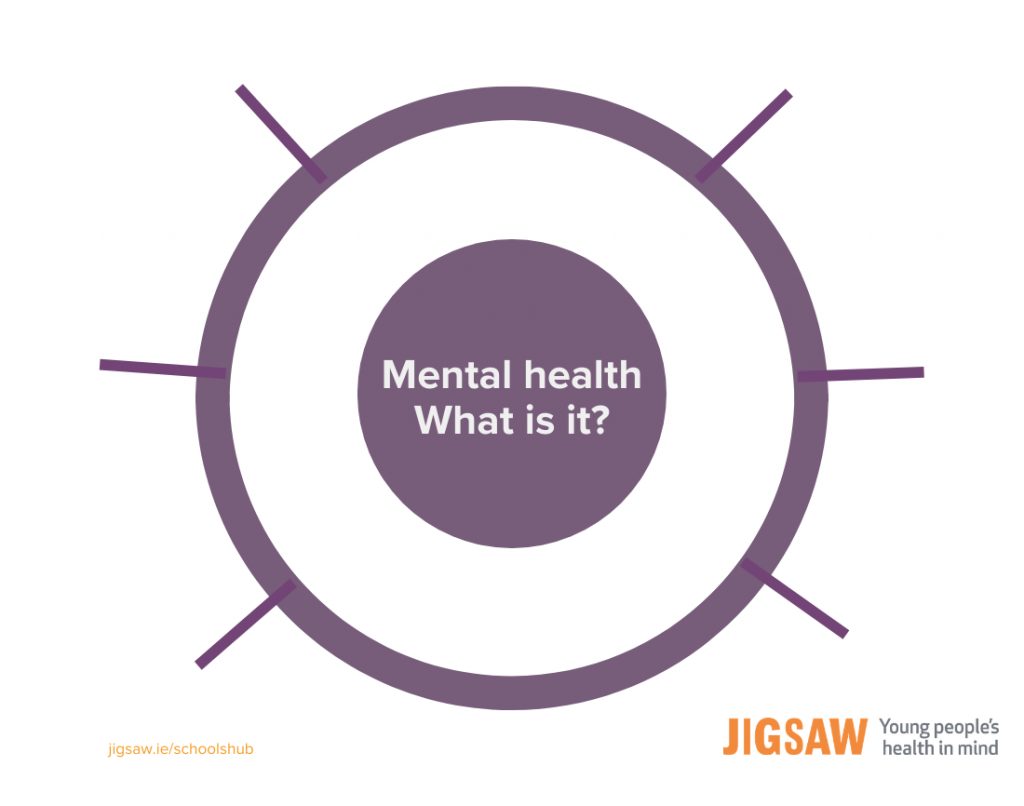 Use this activity to consolidate learning about the definition of mental health. Ask young people to add their ideas and learning about what is meant by mental health onto the wheel diagram.
Reflective practice
After delivering the resources from this section, consider some of the following questions to help consolidate your learning.
How did you feel before this lesson? (e.g. nervous, prepared, confident, etc.) What influenced how you were feeling in advance of this lesson? Did this have any impact on the lesson?
What was the most successful part of this lesson, and why? What learning could you utilise in the future when delivering resources from this toolkit as part of a mental health and wellbeing lesson?
How did you know the young people were interested and engaged during the lesson?
Did any challenges arise during the lesson? If yes, why did they arise? How did you address the challenges you encountered and were you satisfied with how you managed the challenges? Is any further follow-up required?
In terms of using the resources provided in the youth mental health and wellbeing toolkit, what are your next steps?
Nótaí Post-it
Tabhair roinnt nótaí Post-It do gach duine agus iarr orthu íomhánna nó focail a tharraingt nó a scríobh a léiríonn meabhairshláinte dóibh.
Lig dóibh a gcuid smaointí a roinnt lena chéile ar dtús agus ansin mar ghrúpa.
Cad iad na príomhthéamaí a thagann chun cinn sa rang?
Cad is brí le meabhairshláinte
Féach ar an fiseán seo, a mhíníonn príomhtheachtaireachtaí Jigsaw, ar mheabhairshláinte agus ar fholláine. An féidir comparáid a dhéanamh idir na teachtaireachtaí anseo agus na téamaí a bhí ag an rang? Úsáid an t-eolas ón fhiseán chun forbairt a dhéanamh ar an bplé a bhí agaibh ar ball.
Roth na Meabhairshláinte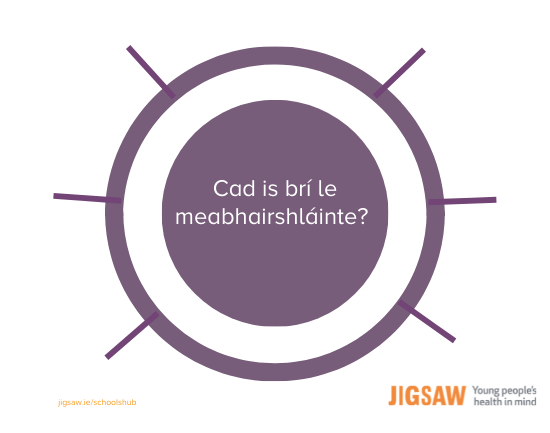 Úsáid an ghníomhaíocht seo chun sainmhíniú na meabhairshláinte a threisiú. Iarr orthu a gcuid smaointí féin agus an tuiscint atá acu ar cad is brí le meabhairshláinte a chur ar an léaráid rotha.
Move on to section 2: Supports and challenges to our mental health
This section should have supported young people to develop their understanding of mental health and wellbeing. It also should have created space for students to think about how everyone experiences mental health differently.
The next section, supports and challenges to our mental health and wellbeing, will support young people to understand what can help, and also challenge their mental health and wellbeing.
You may also like