How do I access Jigsaw?
How do I access Jigsaw?
Wednesday, 17 November 2021
Are you aged 12 to 25 and looking to get one-to-one support with your mental health? If so, your local Jigsaw service can help.
Getting in touch
Start the process by calling or emailing your local Jigsaw service yourself. Your parent or guardian, or teacher, doctor, or youth worker can also take that first step, contacting the service for you with your permission.
If you are under 18, Jigsaw requires that an adult consent for you to attend. That means we need to check with your parent or guardian and let them know you want to attend our service.
However, it does not mean we have to tell them why you want to come to Jigsaw. We will discuss what we can keep confidential with you when you come in.
Once you get in touch, a member of staff will ask you for some basic details. If you both decide Jigsaw is the right service for you, they will organise an appointment for you with a Jigsaw Clinician.
If your situation is more complicated, they might arrange for a Jigsaw Clinician to call you back. This will be to discuss things in a bit more detail before deciding on the next steps.
What is a Jigsaw service?
Jigsaw is a mental health service. But more specifically, it is an early intervention service for young people at primary care level.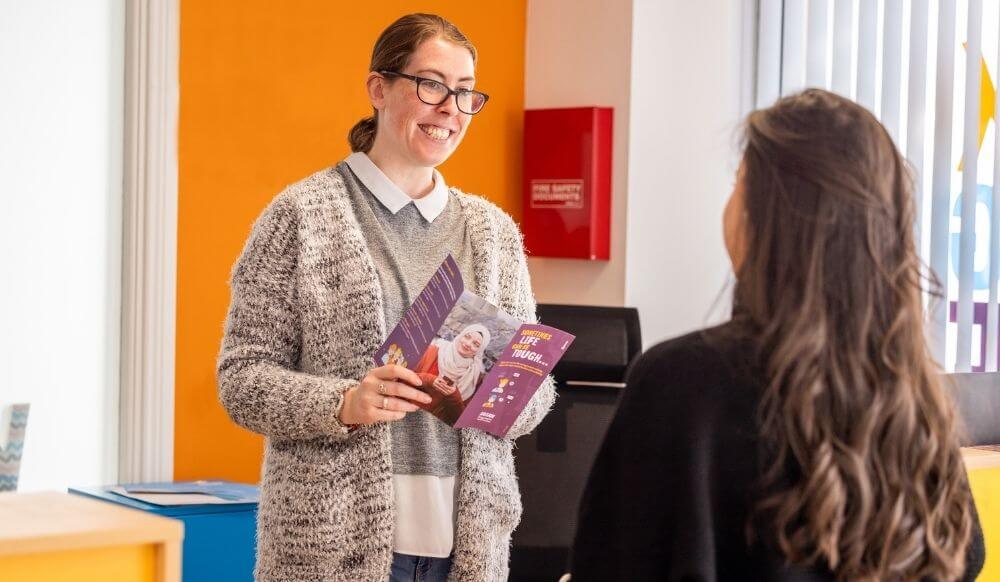 Jigsaw support
Jigsaw supports young people with challenges and difficulties. These can range from struggling with relationships at home or with friends, to feeling down, anxious or isolated.
Early intervention
'Early intervention' means Jigsaw helps young people through difficult periods early on, before issues increase and need longer, more intensive mental health support.
It is never too late to get help for mental health issues. Though getting support early on can often nip problems in the bud before they develop into something less manageable.
This doesn't work for every single person. But research shows it can prevent a lot of young people from having more long-term mental health problems.
Jigsaw supports young people with lots of challenges and difficulties. These can range from struggling with relationships at home or with friends, to feeling down or anxious or isolated.
What happens when I come to Jigsaw?
When you come to Jigsaw, you will meet a Jigsaw Clinician who explains about the service and how we work. If under 18, you will need a parent or guardian to come with you to the first session. This is so they know what Jigsaw is and agree to you coming.
The Clinician will ask questions about what is going on for you, to understand your mental health more and what you would like to change.
Together, you look at what is impacting your mental health. They will help you develop strategies to cope positively with the challenges you are facing. Jigsaw Clinicians offer up to 8 sessions of individual support.
Everyone's situation is unique. We may need to find out more about you and what's going on for you, before we know if Jigsaw can help.
That's why we'll consider the type of difficulties you are experiencing and how long they have been going on. We take into account how severe they are and what you've already done to manage or resolve the difficulties.
Eva
Who got support from a Jigsaw Clinician
It was such a relief to talk about the feelings and the thoughts I had at the time, not to be judged and asked questions I didn't want to answer.
How do I know if Jigsaw is right for me?
Jigsaw is not the right service for people in crisis. If you feel you need urgent or immediate help, look at these options.
It's also not suitable if you have chronic mental health issues as they can require long-term, more intensive support. This doesn't mean that if your problems have developed beyond the "early intervention" stage you are beyond help.
There's never a wrong time to get support for your mental health. Jigsaw just might not be the service for you. If you are unsure whether Jigsaw is suitable for you, please get in contact with your local Jigsaw service.
They can discuss your options and figure out with you how best your mental health can be supported. This could either be with Jigsaw or with a different service, which they can help you identify.
You may also like