Damian's story … The Grand Tour for Jigsaw
Damian's story … The Grand Tour for Jigsaw
Wednesday, 02 August 2023
Damian, our Facilities Officer tells us how a thank you letter from a young boy inspired him to plan his own fundraiser for Jigsaw. 
I've been working in Jigsaw since August 2020 and from day one, it has been an amazing experience. Seeing first-hand how our services and supports have such a positive impact on young people's lives and their families has been humbling.
During the height of Covid, I received a letter from a young boy that I will never forget. In the letter he thanked the staff of Jigsaw for making his sister happy again, which he said in turn made all his family happy.
Brother of service user
My family has so much to look forward to now that my sister is in a better place.
This story inspired me to do what I could to support our work. That started me planning my own fundraiser for Jigsaw.
With my passion for Motorcycling and the urge to support Jigsaw, the Grand Tour Photo Challenge was born. Myself along with my colleague Daryl successfully promoted and completed a three-day fundraiser in July 2022 completing 1500km over 72 hours raising just shy of €6k.
This year I reached out to the motorcycling community to try make The Grand Tour bigger and better than last year. The response was incredible! We kicked off from Joe Duffy Motors and on the morning of June 15th, Nicky Byrne from Westlife came out to see us off. We had incredible support from sponsors and donors and as a result,  raised an incredible 30K for Jigsaw!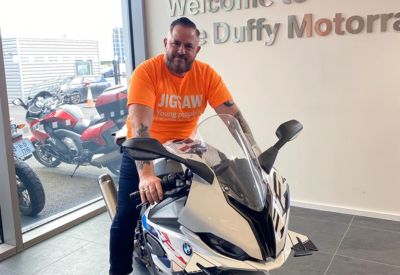 The power of your support
They have helped two of my children and they're a great service for young people!
You were there when my daughter needed someone to talk to.
They helped my brother turn his life around for the better, forever grateful!
You may also like