Jigsaw and Horse Sport Ireland team up for youth mental health
Jigsaw and Horse Sport Ireland team up for youth mental health
Wednesday, 09 February 2022
Jigsaw are pleased to announce that we've teamed up with Horse Sport Ireland to help deliver our online course, One Good Coach™.
Joining forces
This new version of One Good Coach has been created specially to help coaches and volunteers support young people's mental health through the delivery of equestrian sport.
In 2021, almost 1000 people completed the online course. Horse Sport Ireland join a growing number of sporting bodies partnered with Jigsaw for its delivery, including the GAA, FAI, IRFU, Swim Ireland, and Basketball Ireland.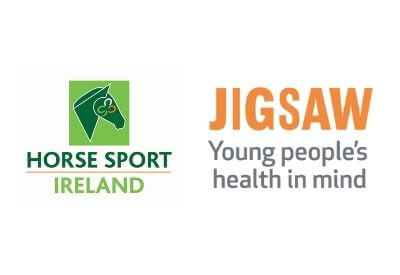 Giving coaches skills to support young people's mental health
The course will be incorporated into the Horse Sport Ireland continuous professional development programme for accredited coaches. It will also be made available to affiliates and volunteers within the horse sport industry.
Sonja Egan
Interim Head of Breeding, Innovation and Development with Horse Sport Ireland
"Horse Sport Ireland are excited to support Jigsaw and the promotion of youth mental health with the introduction of the One Good Coach™ online course. This new course will help to raise awareness of the challenges our young equestrians face while providing coaches, volunteers and parents with the information needed to seek further supports."
Coaches play a key support role
"At Jigsaw, we know how coaches play a key support role in the lives of young people," commented Rebecca Murphy, Youth Mental Health Promotion Manager with Jigsaw.
"So we're very pleased to be partnering with Horse Sport Ireland to bring One Good Coach™ to coaches in equestrian sports to give them the knowledge to promote and support young people's mental health."
One Good Coach™ is now available to access on Horse Sport Ireland's eLearning platform
You may also like