One year anniversary working with Tribe
One year anniversary working with Tribe
Naoise
Friday, 19 February 2021
This February marks one year of working with Tribe Charity; a community of young people committed to normalising the discussion around mental health in Ireland.
Tribe had to move their fundraising entirely online in the last year and have still managed to raise almost €75,000 in support of our work at Jigsaw.
Not to rest on their laurels, to celebrate a year of our partnership, they have created a hoodie alongside Irish artist Dan Leo (pictured) and profits from its sales will go to fund our work with young people.
The sea turtle, a symbol of 'endurance', a central philosophy to those at Tribe adorns the back of the hoodie. Check out: https://www.tribecharity.com/hoodie
Who are Tribe Charity?
Founded by Charlie Butler and Brian O'Mahony in March 2019, Tribe Charity have raised over €125,000 since its inception through a series of challenges, events, community initiatives and online fundraisers across universities and local areas.
To learn more about Tribe, and keep up to date with their fundraising and events, follow @tribe_charity on Instagram.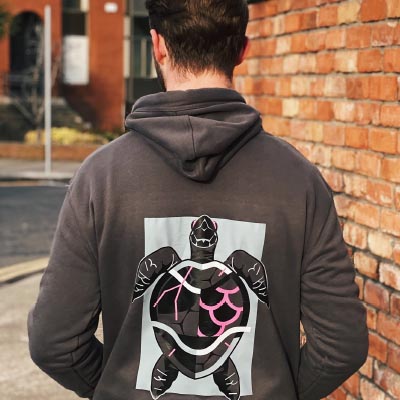 You may also like