The Grand Tour 2023
The Grand Tour 2023
Our very own Damian Sheridan will be leading seven other motorcyclists on a 72-hour journey that will cover 15,000km and visit all fourteen local Jigsaw services across the country.
The Grand Tour  2023 will begin on Thursday, 15 June by taking them through Dublin City, South Dublin, Wicklow, Fingal, Meath, and Donegal.
Damian will be joined on the challenge by Dave Perry, Daryl D'Art, Tony Golden, Ken McGrevey, Mark Sheridan and Donal Doyle.
On Friday they will visit Roscommon, Galway, Limerick, Kerry and Cork. Before their final leg on Saturday takes them to Tipperary, Offaly, and Kildare.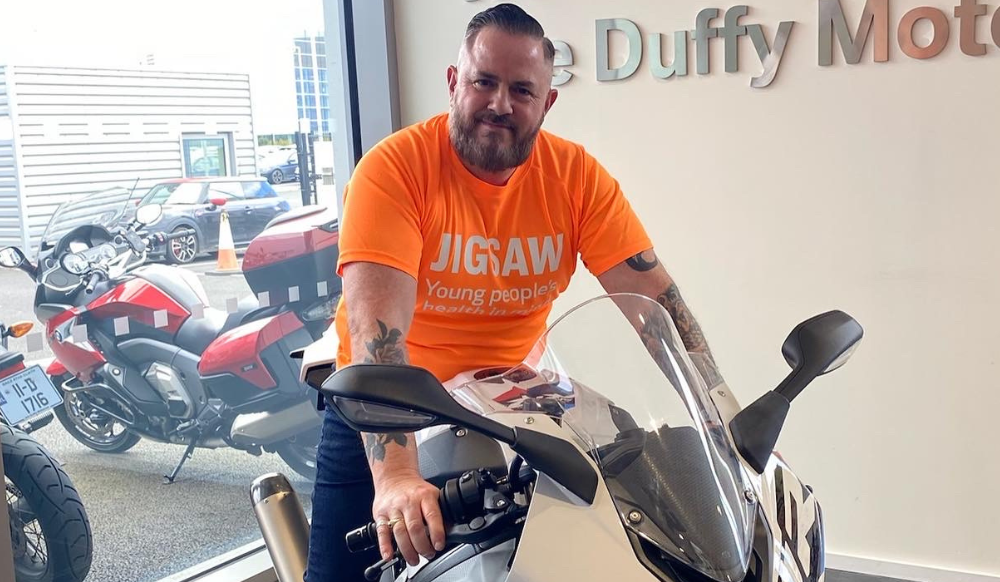 Donate!
To support Damian on his epic Grand Tour Photo Challenge you can make a €2 donation by texting JIGSAW to 50300.
Damian decided to fundraise for the charity after receiving a moving handwritten letter from a young boy.
In his letter, the 12-year-old boy expressed his gratitude to Jigsaw for bringing happiness back into his sister's life, which, in turn, brought joy to their entire family.

He mentioned how much his family now has to look forward to. He shared how he collected wood from the nearby forest, cut and sold it as firewood in his community. From his efforts, he managed to raise nearly €300, which he donated to Jigsaw as a thank-you for all they did for his sister. 

To me, this showcased the incredible impact Jigsaw has, not only on young people struggling with mental health, but also on their families and the wider community.
"Damian's fundraising efforts for Jigsaw are extraordinary. Demand for our mental health services and supports is on the increase, as we see more and more young people expressing feelings of isolation, fear and anxiety. It's truly disheartening to see so many children and young adults struggling and finding it hard to get the support they so desperately need," said Matthew Oakes, a spokesperson for Jigsaw.
"At Jigsaw, we are committed to ensuring that young people not only receive the help they need but the help they truly deserve. It is through the amazing fundraising efforts of Damian, and others like him, that we can continue making a real difference in the lives of these young individuals.
"We urge everyone who can to come out and show their support for Damian and his fellow riders on this remarkable journey. And if you can, we kindly ask for you to make a contribution to their fundraising efforts by texting JIGSAW to 50300 and donating €2."
The Grand Tour Schedule
Day 1 – Thursday, 15 June
Dublin City – South Dublin – Wicklow – Fingal – Meath – Donegal
Joe Duffy BMW Motorrad at Charlestown – 8am
Jigsaw D15 at Blanchardstown Library – 9.30am
Jigsaw Tallaght at St. John's House, High Street, Tallaght – 10am
Jigsaw Wicklow at Aubrey Court, Parnell Road, Bray, Wicklow – 10.30am
Jigsaw National Office at Westland Square, 16 Pearse St, Dublin – 11.15am
Jigsaw Dublin City Essex St in Temple Bar, Dublin – 11.30am
Jigsaw Dublin City Summer Hill at Beckett House, Summerhill, Dublin – 11.45am
Jigsaw Swords at Archway House, The Plaza, Malahide Road, Swords – 12.20pm
Jigsaw North Fingal at 1 St. George's Square, Balbriggan – 1pm
Jigsaw Meath at 5 Brews Hill, Navan – 1.40pm
Jigsaw Donegal at Pearse Road, Letterkenny- 7pm
Day 2 – Friday, 16 June
Donegal – Roscommon – Galway – Limerick – Kerry – Cork
Jigsaw Roscommon at the Primary Care Centre, Golf Links Road, Roscommon Town – 11.15am
Jigsaw Galway at Victoria House, Eyre Square, Galway – 1.30pm
Jigsaw Limerick at Arthur's Quay House, Arthur's Quay, Limerick – 4.20pm
Jigsaw Kerry at Edward Court, Tralee, Co. Kerry – 6pm
Jigsaw Cork at Unit 8, South Bank, Crosses Green, Wandesford Quay, Cork -8.15pm
Day 3  –  Saturday, 17 June
Cork – Tipperary – Offaly – Kildare
Jigsaw Tipperary at G2, Innovation Works 3, Tipperary Technology Park, Thurles – 10am
Jigsaw Offaly at Cormac Street, Tullamore – 11.30am
Terence Heeley Motorcycles at Unit 1A Axis Business Park, Srah, Tullamore – 12pm
Shed 4 Bikers at 794 Kilbeg Terrace, Kilbeg, Kildangan, Co. Kildare – 2pm
100% of all text cost goes to Jigsaw across most network providers. Some providers apply VAT, which means a minimum of €1.63 will go to Jigsaw. Our service provider is LIKE CHARITY who can be contacted on 0766 805 278 if you need any help.
You may also like