Meet one of our fundraisers Lucy
Meet one of our fundraisers Lucy
Without the support of our amazing fundraisers like Lucy, our work here at Jigsaw would not be possible. Over the summer of 2021, Lucy O'Sullivan cycled the Wild Atlantic Way to support young people's mental health…
Lucy's fundraising journey
Last summer I cycled 2,400km of the Wild Atlantic Way and wild camped en route to raise funds and awareness for Jigsaw. The kindness and generosity shown to me along my journey made it very clear how necessary Jigsaw's work is.
Starting in Donegal, I was immediately blown away by the response I received on the road. Everyone knew about Jigsaw and told me stories of the good work done in the local centre for someone they knew. This theme continued as I moved down through the country.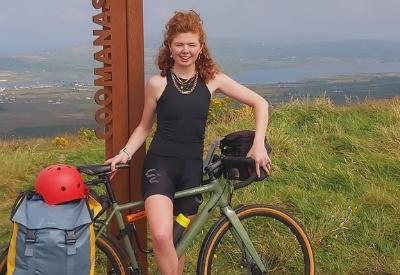 I am delighted to say that I beat my initial target of €2,400 and raised €12,990.
I visited numerous centres along the way where the Jigsaw staff welcomed me so warmly, and explained to me the increased demand for their services after the pandemic. The need is so great for what Jigsaw do.
I can honestly say I had a ball fundraising for Jigsaw. I cannot begin to describe how rewarding the experience was. The process made it totally seamless, and the kindness shown to me by the people of Ireland gave evidence for the respect and admiration that they have for Jigsaw.
It is because of our supporters we are able to innovate and find new ways to reach more young people. But we know that there's much more we need to do. That's why we need to continue to inspire people to support Jigsaw. And not just that, we need to inspire thousands more by putting you, our supporters at the heart of everything we do and providing exciting and creative ways to get involved!
This News article was developed as part of Jigsaw's supporter newsletter
You may also like