World Mental Health Day 2021
World Mental Health Day 2021
Cian
Friday, 08 October 2021
World Mental Health Day 2021 is this Sunday, 10 October.
The last 18 months have been tough for everyone. Though as restrictions continue to lift, we can do with a reminder to look after our wellbeing from here on. This is especially true as winter closes in.
This year's theme is 'Mental Health in an Unequal World'. The goal is to support and raise awareness for mental health issues around the world.
Good habits
Looking after your mental wellbeing is an all year round concern. But here are some good habits to get into you as the nights grow longer.
Emma Jane O'Donnell
Jigsaw Cork YAP member
The council had granted us permission to put up a public mural in the city centre. Not only were we going to be painting it ourselves, but we were to get the opportunity to design it with the utterly talented Deirdre Breen!
World Mental Health Day events
To mark the day, here are some events and activities our services are involved in:
Jigsaw Cork
The Youth Advisory Panel in Jigsaw Cork were involved in creating the wonderful mural at the top of the page. The art work is called 'Your mind is a garden, nourish it!'. The group completed a smaller version on UCC campus too.
Jigsaw Kerry
The Jigsaw Kerry service is taking part in the Kerry Mental Health & Wellbeing Fest, running from 9 – 16 October. The festival hosts over 60 free online and in-person events for all ages and abilities. To find out more download the programme here, or check healthykerry.ie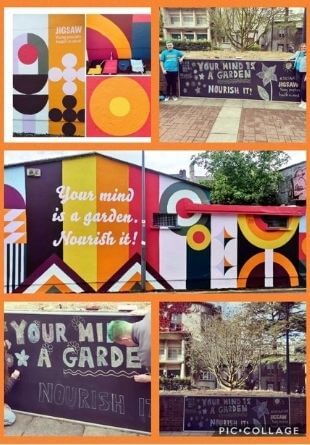 Niamh Cronin
Jigsaw Cork YAP member
We decided to use "Your mind is a garden, nourish it!" as our core message in the mural (pictured here).
Jigsaw Dublin South West
As this year's World Mental Health Day falls on a Sunday, Jigsaw Dublin South West plan activities for Monday, 11 October. This is to capitalise on the higher workday footfall passing by. Local businesses and NGOs along High Street in Tallaght Village, will display bunting that raises awareness for mental health.
Jigsaw will have two stands on High Street for the day with staff and youth volunteers providing information or chats.
South Dublin County Council are on board for the initiative too. Green ribbons will be tied to trees along the street, to acknowledge the Green Ribbon See Change campaign. Events for the day will also take place in the South Dublin County Council Hall, Tallaght Library, The Civic Theatre and in The Square, Tallaght.
Jigsaw Dublin City
Our Dublin City service are taking part in CYPSC North Dublin's Connect and Learn Series of talks and workshops. Aimed at parents, care givers, practitioners, and the community to promote positive mental health and wellbeing, the programme runs thoughout October. Events are available to all in the Dublin City North area and are currently open for registration.
For more info see the CYPSC site or check @CypscDcn on Twitter.
You may also like