Damien Coyle's C.L.A.N.G. challenge
Damien Coyle's C.L.A.N.G. challenge
Cian
Friday, 25 June 2021
Damien Coyle, Service Manager for Jigsaw Donegal, is taking on the C.L.A.N.G. challenge to raise funds and awareness for youth mental health. 
Over the 6-10 July, Damien is doing C.L.A.N.G. with Jigsaw. He will Connect, Learn, get Active, take Notice and Give, the 5 a day for his mental health, while running 252 KM. That's 6 marathons in 5 days! 
Starting off in Jigsaw Galway, Damien will run past Jigsaw Offaly, Jigsaw Dublin city, to finish in Jigsaw Bray. But, Damien wants to visit all 14 Jigsaw services, and that's a 1,200 KM round trip. So just like our mental health sometimes, he can't go it alone.
We need your help…
Can Damien Count on You?
Run 5 or 10 KM and donate! We can add your distance to Damien's and we'll get closer to our 1,200 KM goal. You'll receive a special C.L.A.N.G. certificate.
Connect with us by tagging Jigsaw on social media or sending us a message.
Learn by reading our articles on youth mental health and why it's so important.
Get Active by running 5 K to help us reach our collective goal of 1,200 KM.

Take Notice by reaching a state of 'runfulness'. Let go of your thoughts and just focus on your surroundings.

Give, by donating to Damien's fundraising page.
Share the page with friends and family. Then follow us on Instagram at JigsawYMH and Jigsaw Donegal to keep up to date with Damien's C.L.A.N.G. with Jigsaw challenge!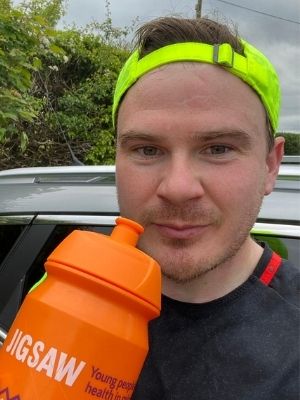 Damien
Service Manager, Jigsaw Donegal
Personally, I wanted to draw some attention to male help seeking. As a male working within a mental health setting, I know it can be challenging for young men to get support.
About Damien
After graduating from Ulster University, Damien, spent a few months volunteering in Kenya. When he returned home, he worked with young men leaving the justice system.
Damien came to Jigsaw Donegal to help young people with their mental health. He knows there are many who need help but are not seeking it out.
Passionate about youth mental health and the positive impact that running can have, he decided to C.L.A.N.G with Jigsaw. Damien wants to show young people, who the people behind Jigsaw are.
How your support helps young people
Jigsaw offer expert mental health advice and support, online and in person, to young people across Ireland, aged 12 – 25 years-old.
By supporting Jigsaw, we will be able to help more young people like Ricky:
"It was like someone took my hand and put away all the shadows. I was able to leave Jigsaw with my head held high and walk out confident, knowing that I had the skills I needed to deal with whatever came up."
We can continue to be there as young people like Ricky face challenges to their mental health from the pandemic and beyond.
Damien
The CLANG challenge highlights what you can do to support and promote your own mental health.
You may also like