New FAI and Jigsaw partnership
New FAI and Jigsaw partnership
Cian
Monday, 08 November 2021
Exciting news! We have been appointed as the official charity partner of the Football Association of Ireland. FAI staff selected us as their preferred choice to work with for the next two years.
Standing together
We are teaming up with the FAI to work under a new 'Standing Together For Youth Mental Health' banner. Launched on Monday, 8 November, at FAI Headquarters in Abbotstown, the project will run for an initial two-year period. It builds on our earlier partnership this year, helping coaches and players nationwide through the One Good Coach campaign.
A series of mental health support programmes will be produced as part of the collaboration. These are aimed at staff, young players and coaches, across all FAI affiliates.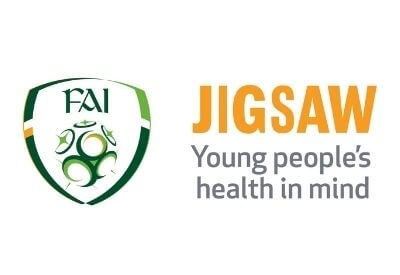 Jonathan Hill
Football Association of Ireland Chief Executive Officer
We are delighted to announce Jigsaw as our new charity partner and I am particularly delighted that this decision was made by our staff across the country. They are aware of the brilliant work that Jigsaw does for our young people and we all see Jigsaw as a perfect fit for the FAI.
Potential of the scheme
Here, at Jigsaw, we are hugely excited about the potential of the scheme.
Mike Mansfield, Director of Communications and Fundraising commented: "Without the commitment of community partners like the FAI, we simply cannot continue to deliver the vital mental health supports and services our young people deserve. By standing together, we aim to help us all better value and better support our young people's mental health."
[Pictured] Republic of Ireland's Andrew Omobamidele, left, and Will Keane, right, with Richard Smith, FAI Football Development Officer, Meath, left, Mike Mansfield, Director of Communications, Jigsaw, centre, and Andrew Holt, FAI High-Performance Operations Coordinator, right, with, from left, Clare O'Reilly, Clinical Manager Jigsaw, Dublin 15, Huixian Ding, FAI, and Shola Adekunle, Youth and Community Engagement Worker, Jigsaw.
You may also like