Raise Your Game
Raise Your Game
Raise Your Game
Young people are counting on us. We as a country, must Raise our Game for our young people.
Raise Your Game by joining us, the Jigsaw team, at our very own 24-hour live stream fundraiser on Saturday, the 24 July. Sign up for email notifications below so you don't miss out!
Sign up for updates
Watch on Twitch or YouTube for a ton of game play, and lots more. Including:
special guests 

from the gaming community.

 

conversations between the Jigsaw team about some of the things they do to support their own mental health

  

 

access to an exclusive 

20% discount code

 for 

gamerstore.ie

 

amazing prizes up for grabs too

! 
Show young people they can count on you. Sign up to watch Raise your Game with Jigsaw and help raise money so that young people in urgent need can access skilled and specialist mental health support from Jigsaw.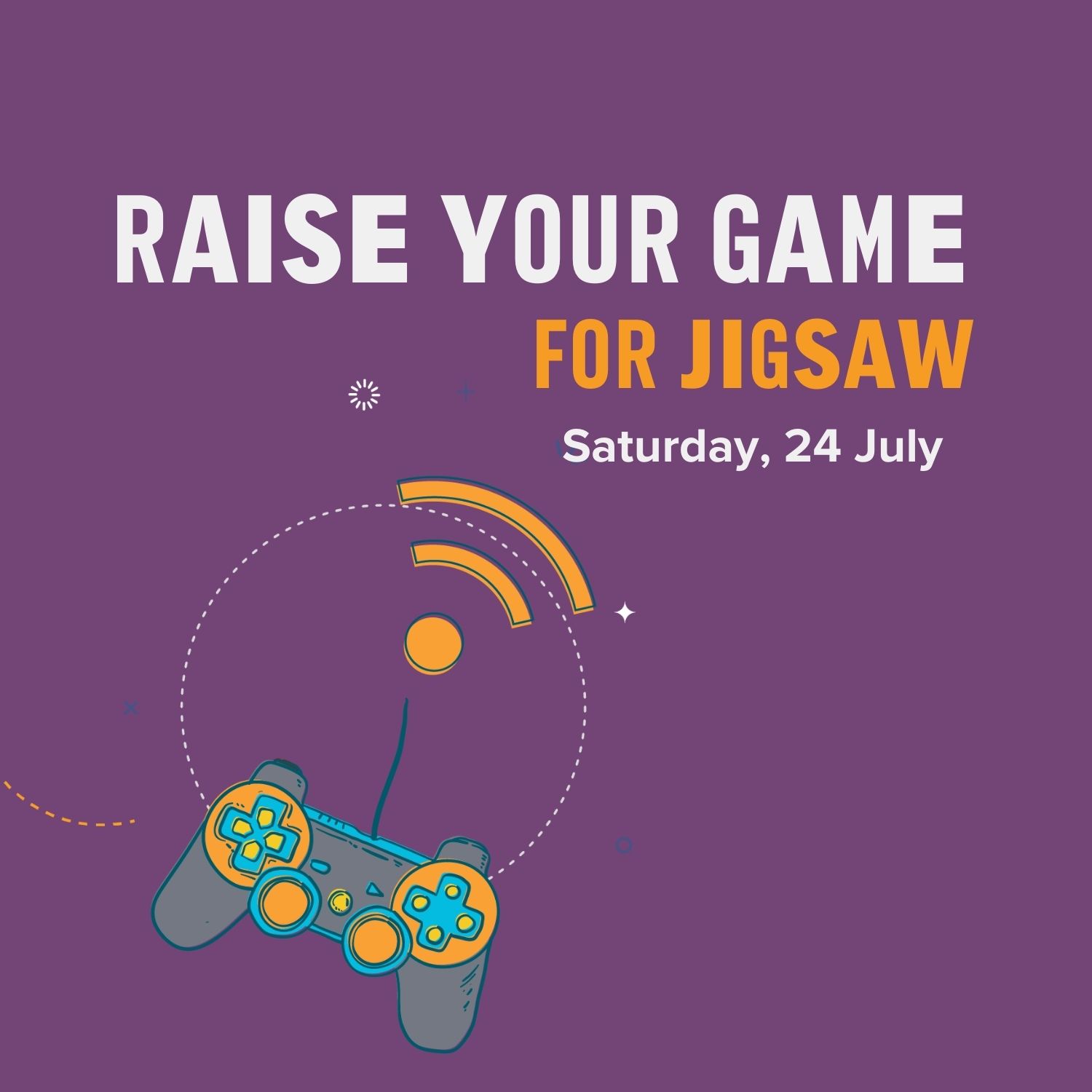 Sign up for event reminders
Keep up to date with all that's happening with Jigsaw's Raise Your Game. 
Frequently asked questions
When does Jigsaw's live stream take place?

Jigsaw are hosting a 24-hour live stream fundraiser on Saturday, 24 July, 9am – 9am Sunday, 25 July.

What is Jigsaw's live stream?

Jigsaw are hosting a 24-hour live stream gaming marathon on Twitch and YouTube on the 24 July from 9am to 9am Sunday the 25 July. We have very special guests joining us throughout the 24 hours.

Jigsaw envisions a fundraising event where our young people can find out more, and engage with Jigsaw while creating a space for positive conversations about mental health. The 24th July Raise Your Game 24-hour event will be first of its kind in Ireland.

How do I watch Jigsaw's live stream?

On Saturday, 24 July from 9am onwards, go to Jigsaw's Twitch or YouTube channel to watch the stream live! You can use your mobile or desktop to watch.

Where does the stream take place?

What is a live stream fundraiser?

A live stream fundraiser is a live video broadcast on a specific platform (in this case, YouTube and Twitch), hosted by an individual or a group of people. You stream yourself/friends/family doing an activity, like playing video games or music, for a dedicated length of time asking for donations throughout.

Can I join the stream?

No, this stream is for viewing only. You can watch the stream on Twitch and YouTube.

If you'd like to organise your own stream, please go here for more info!

How do I stay up to date about Jigsaw's live stream?

Please fill out the form above so we can keep you up to date.

Who are the special guests?

We have super exciting guests joining us throughout the 24-hour stream! Please sign up [here] for event notifications to be the first to hear who they are!

Who will be in the stream?

Alongside the special guests, we will have staff from Jigsaw streaming as well as young people from Jigsaw's Youth Advisory Panel.

What games will you play?

We plan to play lots of different games like Jack Box Party Pack, Fifa, Rocketleague, Doom, Fortnite, Overcooked plus way more! Sign up through the form above to receive updates on questions like this!

How can I support the event?

How do I get involved?

Is Jigsaw's live stream suitable for a young audience?

Jigsaw's live stream is suitable for those aged 12+.

However, as with all online events, it is advisable to have parental supervision for those under the age of 16 who are watching.

The stream will be moderated by the Jigsaw team.

What's JustGiving?

JustGiving is a platform for online giving! JustGiving allows supporters to create fundraising pages that they can share with peers to gather donations. Donations are processed securely and are transferred to charities on a monthly basis.

Where do the funds go?

Jigsaw offer expert mental health advice and support, online and in person, to young people across Ireland, aged 12 – 25 years old. Our vision is for an Ireland where every young person's mental health is valued and supported.

By supporting Jigsaw, we will be able to help more young people like Ricky:

"It was like someone took my hand and put away all the shadows. I was able to leave Jigsaw with my head held high and walk out confident, knowing that I had the skills I needed to deal with whatever came up."

And we can continue to be there as young people like Ricky face challenges to their mental health during the pandemic and beyond